20 Individually Wrapped Eucalyptus Towelettes
Brand:

Herban Essentials

Herban Essentials essential oil towelettes are made with the highest quality, pure essential oil, which not only makes them smell amazing, but makes them naturally uplifting and rejuvenating as well. Eucalyptus essential oil is naturally stimulating.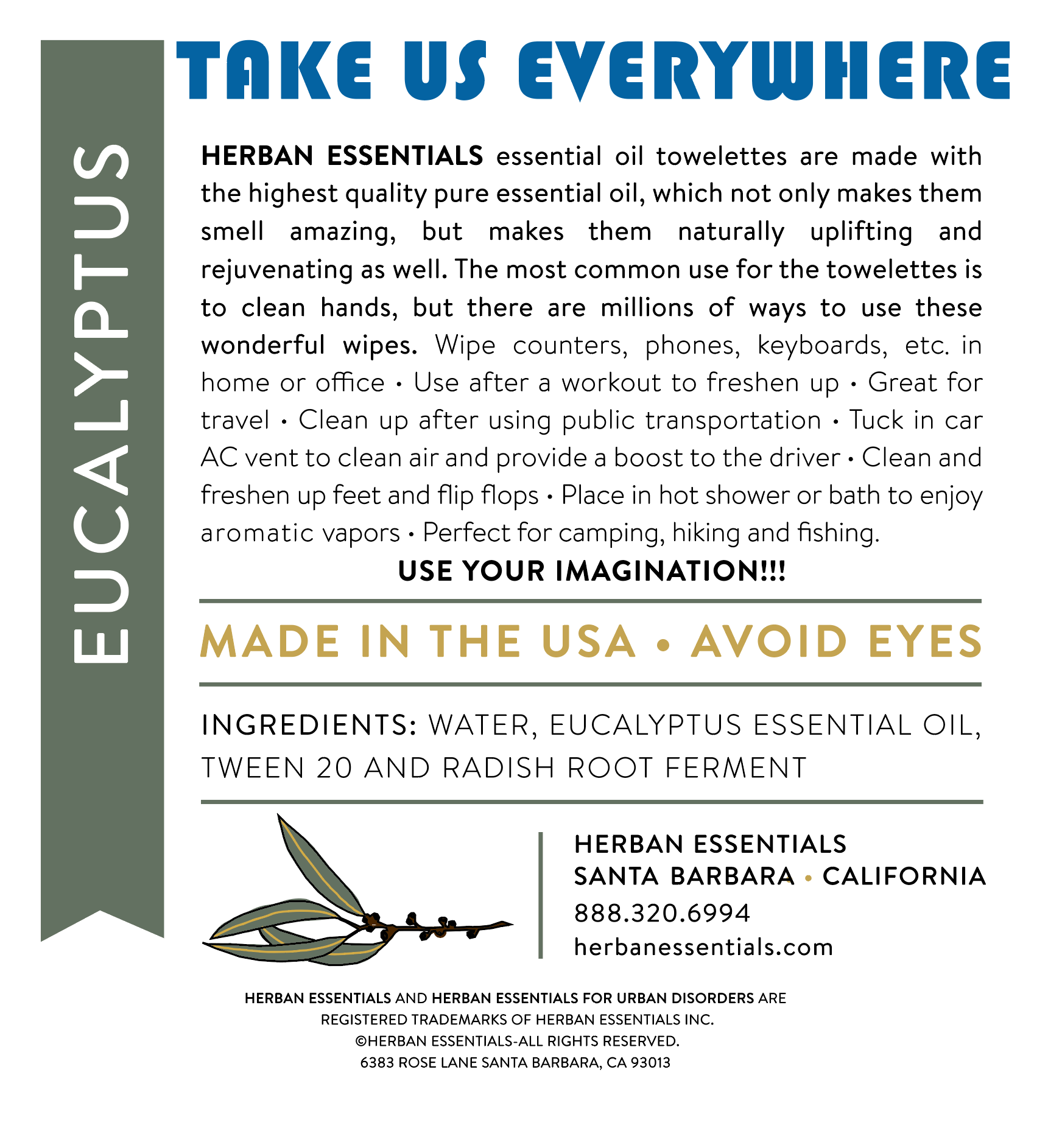 INGREDIENTS ⋅ WHAT'S IN THE TOWELETTE
WATER ⋅ PURIFIED

ESSENTIAL OIL ⋅ HIGHEST QUALITY (ORGANIC WHEN AVAILABLE)


TWEEN 20 (POLYSORBATE 20) ⋅ A FRUIT SUGAR EMULSIFIER TO KEEP OIL & WATER MIXED

RADISH ROOT FERMENT ⋅ ANTIMICROBIAL PEPTIDE (NATURAL PRESERVATIVE)
Code

010

EAN

835762000100

SKU

835762000100

Weight

184
Review by Marlo, Posted on 13-07-2017, 5 Stars.
Eucalyptus towelettes are great for freshening up especially when it's allergy season. It helps you breathe better when you get stuffy. You can also put one on your nightstand to breathe in eucalyptus while you sleep.
Review by Ninja Crepes, Posted on 13-07-2017, 5 Stars.
smells awesome, great for on the road/travel. cooling effect.
i never travel without these now, especially when I know I'm going to be running around all day and a shower is hours away.
never get a long haul flight without the either. great for a mid flight refresh when your halfway through a 15 hour flight
Review by Praise Is What I do, Posted on 13-07-2017, 5 Stars.
I have purchased these before from a dept. store and they are fabulous. They are moist and smell great. I keep them in my golf bag and use them to freshen up after a warm or hot day on the course. I've had them for up to two years in my bag and they didn't dry out in the individual packets.



5

stars based on

3

reviews