20 Individually Wrapped Assorted Towelettes - 5 Scents
Brand:

Herban Essentials

Herban Essentials essential oil towelettes are made with the highest quality pure essential oil, which not only makes them smell amazing, but makes them uplifting and rejuvenating. Our Mixed bag is stocked with four towelettes of each scent!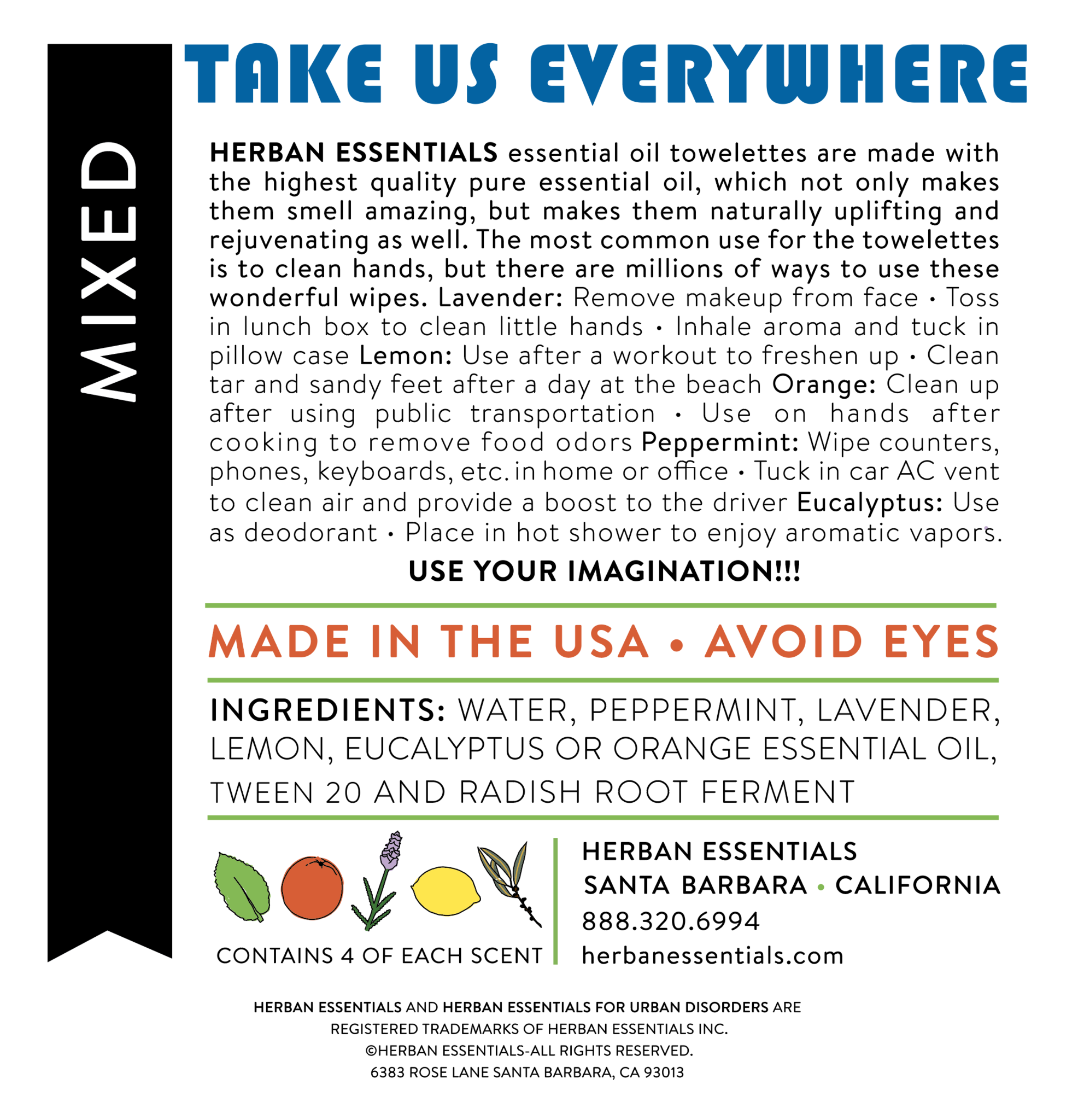 INGREDIENTS ⋅ WHAT'S IN THE TOWELETTE
WATER ⋅ PURIFIED

ESSENTIAL OIL ⋅ HIGHEST QUALITY (ORGANIC WHEN AVAILABLE)

TWEEN 20 (POLYSORBATE 20) ⋅ A FRUIT SUGAR EMULSIFIER TO KEEP OIL & WATER MIXED

RADISH ROOT FERMENT ⋅ ANTIMICROBIAL PEPTIDE (NATURAL PRESERVATIVE)
Code

007-NB

EAN

835762000216

SKU

835762000216

Weight

184
Review by Chica, Posted on 13-07-2017, 5 Stars.
Smell great, no weird chemicals, individual packets- hands clean great for hiking
Review by CHRISTINA SUSAN ROBB, Posted on 13-07-2017, 5 Stars.
These are wonderful. They are individually wrapped and great for travelling. They smell wonderful. We all love them and I will be ordering more of them.
Review by Ms. C, Posted on 13-07-2017, 5 Stars.
So wonderful, especially for travel or work. Refreshing, gentle, and very handy. Not drying like some wipes. I find them great for car trips. The peppermint is a great scent for mild nausea and the lavender is great to help with sleep. All the scents are clean and work for small cleanups.
Review by Carolyn S Talasek, Posted on 13-07-2017, 5 Stars.
As it happens, I was ill with a sinus infection when the packets arrived. I read the suggestions for how to use which said to add to my shower. I used the eucalyptus in my shower and it was great. Thank you. I love the packets.



5

stars based on

4

reviews