20 Individually Wrapped Peppermint Towelettes
Brand:

Herban Essentials

Herban Essentials essential oil towelettes are made with the highest quality, pure essential oil, which not only makes them smell amazing, but makes them naturally uplifting and rejuvenating as well. Peppermint essential oil is naturally energizing.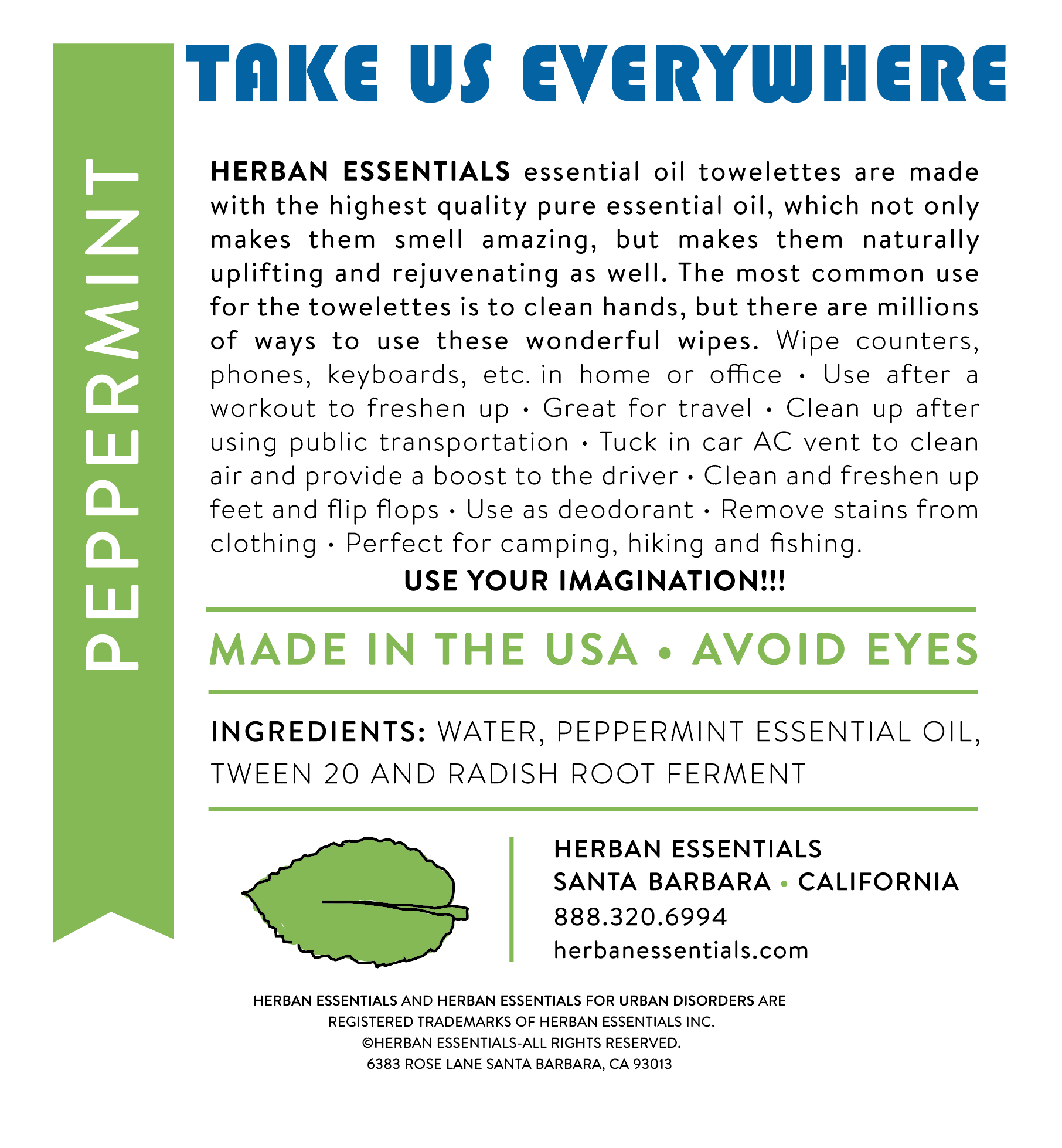 INGREDIENTS ⋅ WHAT'S IN THE TOWELETTE
WATER ⋅ PURIFIED

ESSENTIAL OIL ⋅ HIGHEST QUALITY (ORGANIC WHEN AVAILABLE)

TWEEN 20 IS POLYSORBATE 20 ⋅ A FRUIT SUGAR EMULSIFIER TO KEEP OIL & WATER MIXED

RADISH ROOT FERMENT ⋅ ANTIMICROBIAL PEPTIDE (NATURAL PRESERVATIVE)
Code

006

EAN

835762000063

SKU

835762000063

Weight

184

Size X

15

Size Y

17

Size Z

5
Review by Joeseph R. Delamater, Posted on 13-07-2017, 5 Stars.
That's it. They mint towelettes. I don't know what else you want. You shouldn't even be reading this review. I mean, if you're looking for a towelette that is peppermint, you search for it and you buy it, right?

These things are mint as hell. We used them when my wife was ill with hyperemisis during her pregnancy. It quelled her nausea which was caused by EVERYTHING. She would just sniff them. We now use them to disinfect the baby's toys. Can't go wrong with these. Just make sure you like peppermint. But you do. Because you're reading this.
Review by Rhonda Taylor, Posted on 13-07-2017, 5 Stars.
These towelettes are amazing - no alcohol to dry your hands. They give you a clean, fresh feeling and are wonderful on a hot day to cool off your neck and arms as well as using as an antibacterial wipe. When done I leave it in my car to act as an air freshener. I also love the lemon and eucalyptus as an air freshener after refreshing my hands.Highly recommend these. My girlfriends love it when I treat them to a towelette when we are out to lunch. You can also purchase a variety pack which gives a nice choice each tine you freshen up and disinfect.
Review by Buff Crone, Posted on 13-07-2017, 5 Stars.
I bought my first package on a lark and they immediately became a necessity. I've used them in hot dry and hot humid places. I use one every time I board an airplane, first cleaning my hands and then the armrests and table. Then I leave the towel in the seat pocket as a tiny air freshener. I give them to friends and strangers. I gave one to a woman in Japan and she became a dear friend. They are well worth the price to avoid the drying of alcohol. I've tried every scent but this is my favorite.
Review by Patty Watty, Posted on 13-07-2017, 5 Stars.
If you have a bad cough or just the pepperment scent is enough of a reason to purchase this product!
Review by Johnson, Posted on 13-07-2017, 5 Stars.
Wonderful product. While cycling through the Black Forest in Germany, something I'd eaten didn't agree with me. When feeling rather ill and developing a terrible headache, I remembered having tucked a few of these peppermint towelettes into my gear. Within in just few minutes of using one of them, I began feeling better. Portable, energy giving.
Review by Cindy H, Posted on 13-07-2017, 5 Stars.
These wipes are so wonderful! Their peppermint scent is so amazing, you won't want to throw it away when you are done wiping your hands! I also place an open one in my car to keep it smelling great. Also I tend to be sensitive to fragrances or harsh chemicals, with these I dont need to worry, all natural and totally gentle.
Review by JD Smith, Posted on 13-07-2017, 5 Stars.
These are a great product for my birthing clients. They are good for the nausea feeling and also refreshing....especially during long births. I use them too.
Review by SP, Posted on 13-07-2017, 5 Stars.
A while ago I bought a variety pack on GILT. I am so glad I was able to buy again. I use the peppermint wipe to freshen up on a hike or when I am out and can not shower. I have used the eucalyptus when I have felt a bit under the weather and it helps me to relax. The lavender is just lovely. I appreciate that the ingredient is just essential oil. I also love the price.
Review by Grandma E., Posted on 13-07-2017, 5 Stars.
This are the greatest! Leave your hands feeling so clean and the smell is like a fresh squeezed lemon. Peppermint is great too. Makes me wish for a mint julep
In the Deep South!!
Review by Elizabeth Carrico, Posted on 13-07-2017, 5 Stars.
These are fantastic! I use them after a sweaty yoga session and before I go to bed. They are perfect to cool down and have helped skin conditions beautifully. I typically sleep hot and using these helps me stay cool.



5

stars based on

10

reviews