7 Individually Wrapped Lavender Towelettes
Brand:

Herban Essentials

Herban Essentials essential oil towelettes are made with the highest quality, pure essential oil, which not only makes them smell amazing, but makes them naturally uplifting and rejuvenating as well. Lavender essential oil is naturally calming.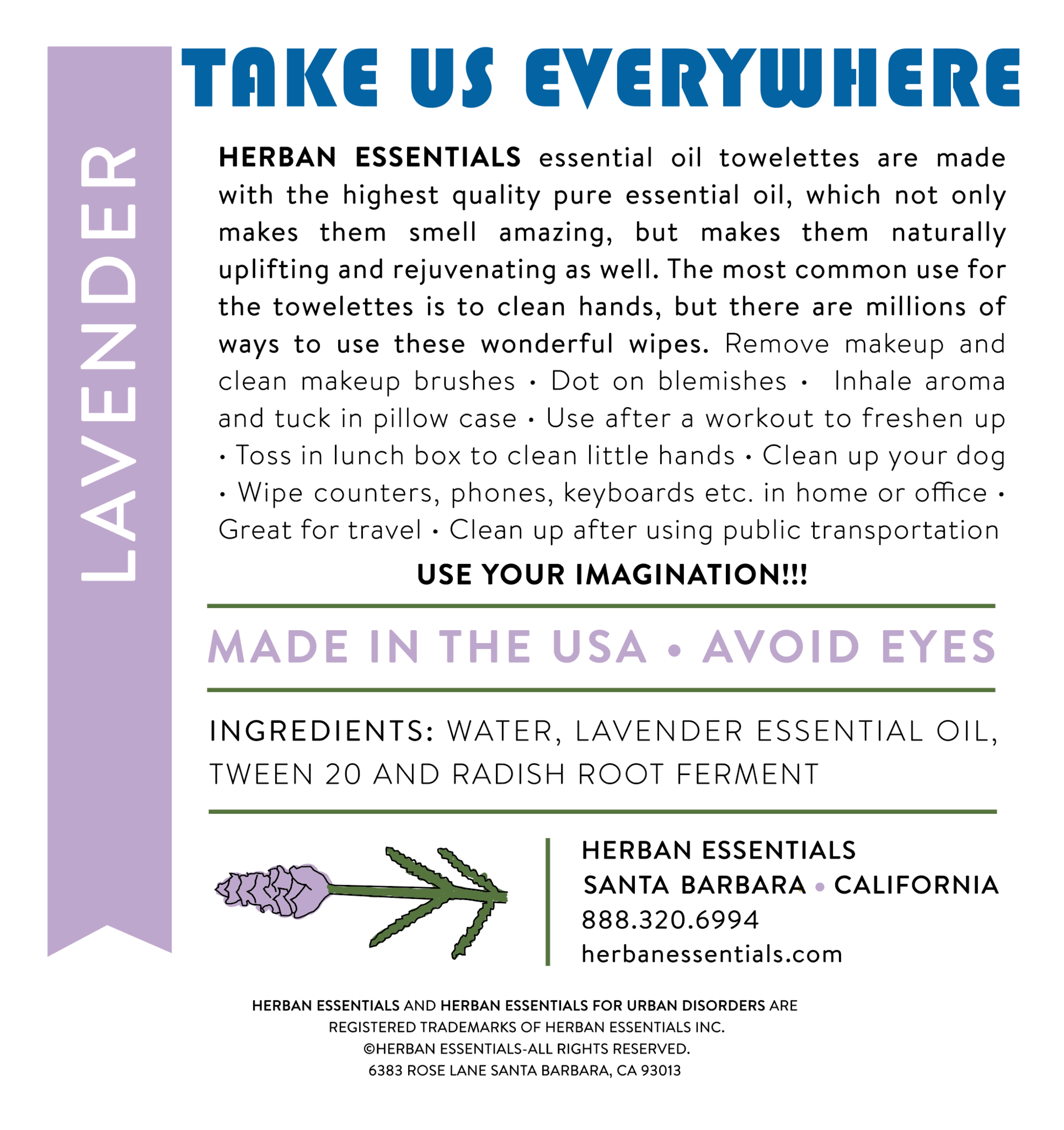 INGREDIENTS ⋅ WHAT'S IN THE TOWELETTE
WATER ⋅ PURIFIED

ESSENTIAL OIL ⋅ HIGHEST QUALITY (ORGANIC WHEN AVAILABLE)

TWEEN 20 (POLYSORBATE 20) ⋅ A FRUIT SUGAR EMULSIFIER TO KEEP OIL & WATER MIXED

RADISH ROOT FERMENT ⋅ ANTIMICROBIAL PEPTIDE (NATURAL PRESERVATIVE)
Code

015

EAN

835762000438

SKU

835762000438

Weight

70

Size X

7

Size Y

13

Size Z

12
Review by Keith Rowland, Posted on 13-07-2017, 5 Stars.
Seriously love these wipes. I'll never use another brand. These smell great and make you feel happy. And they clean your hands without drying them out.
Review by Dana Ausitin, Posted on 13-07-2017, 5 Stars.
I have reordered these because my other friends and family saw these and wanted some too. Smells great and doesn't leave a residue
Review by Michele, Posted on 13-07-2017, 5 Stars.
These towelettes are my favorite travel essential. I give them as gifts too. Refreshing on a long flight, or lavender when I am trying to sleep, these can't be beat.
Review by Anonymous, Posted on 13-07-2017, 5 Stars.
Buy them, you won't regret it! I received my first bag of Herban Essential towelettes as a gift from a friend who is the best gift giver ever. I wasn't sure about the necessity of these, but kept it in my purse waiting for the right time to use it. The right time was at a concert after someone bumped me and spilled beer all over my hands. I had no idea what to expect, but OH MY GOD!!! Not only was it perfect for the clean up, but the scent was AMAZING! I can no longer live life without these (ok, maybe an exaggeration, but really...). I absolutely LOVE these things. I now keep them in my purse, car, and gym bag. I have handed them out to people at concerts for a quick spa break. I have given them as gifts as well. They are perfect for a quick scented pick me up, a quick wipe down, or really whatever. LOVE LOVE LOVE LOVE LOVE!!!!! Buy them. You won't regret it.
Review by MissMel821, Posted on 13-07-2017, 5 Stars.
I love these towelettes! I bought them to bring with me on an upcoming trip! I bought the lavender scent and they smell lovely! Not too overwhelming and soothing.They are going to be very useful on my 24+ hour plane travel to get to my destination. I've also been keeping a few in my purse for any emergencies or just to freshen up after being in the muggy New York weather.
Review by Sumo Gal, Posted on 13-07-2017, 5 Stars.
Great smell and excellent size! I've been using these for when I am on a long haul flight or just not in a position or location to shower daily. The fragrance is clean and not overpowering and two towelettes basically wipe the entire body. P.S. I travel a lot, thus my bathing predicament at times.



5

stars based on

6

reviews