7 Individually Wrapped Peppermint Towelettes
Brand:

Herban Essentials

Herban Essentials essential oil towelettes are made with the highest quality, pure essential oil, which not only makes them smell amazing, but makes them naturally uplifting and rejuvenating as well. Peppermint essential oil is naturally energizing.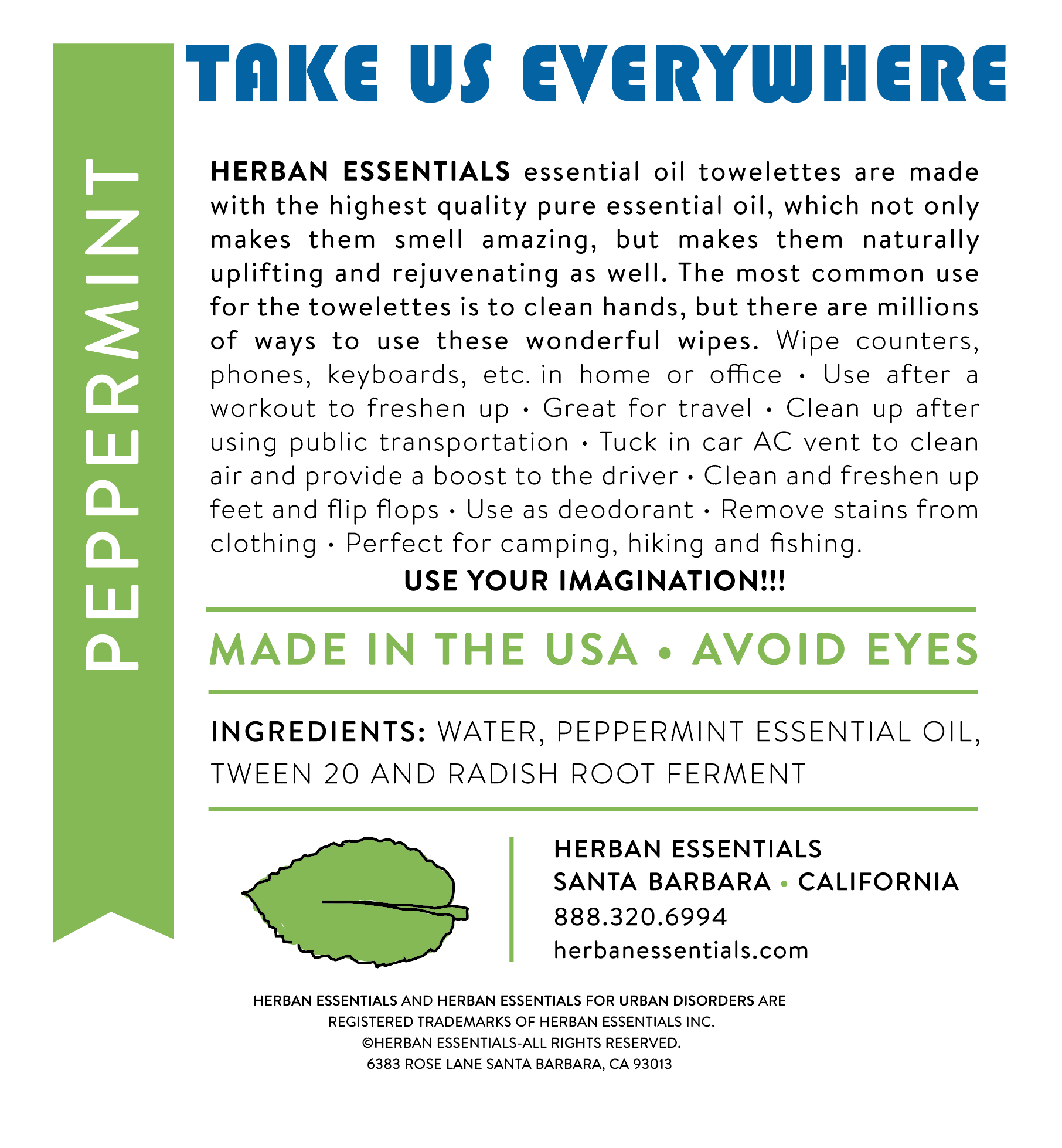 INGREDIENTS ⋅ WHAT'S IN THE TOWELETTE
WATER ⋅ PURIFIED

ESSENTIAL OIL ⋅ HIGHEST QUALITY (ORGANIC WHEN AVAILABLE)

TWEEN 20 IS POLYSORBATE 20 ⋅ A FRUIT SUGAR EMULSIFIER TO KEEP OIL & WATER MIXED

RADISH ROOT FERMENT ⋅ ANTIMICROBIAL PEPTIDE (NATURAL PRESERVATIVE)
Code

016

EAN

835762000445

SKU

835762000445

Weight

70

Size X

7

Size Y

12

Size Z

12
Review by Mary Muir, Posted on 20-08-2018, 5 Stars.
I am a loyal customer- I have bought your wipes since you came out with them! I use them for everything and I always buy the small packs to give to friends, and my kids! They are a must for travel, a must for everyday! Such a great product!
Review by Francine Johnson, Posted on 13-07-2017, 5 Stars.
My new favorite towelette. Mint smell is great. I keep some in my purse; very refreshing on a hot summer day.
Review by KJ, Posted on 13-07-2017, 5 Stars.
Addicted for years. I favor the Peppermint over all the other scents.
Review by Kitty M, Posted on 13-07-2017, 5 Stars.
I have been using Herban Essestials to clean my hands for years! So happy to find them on Amazon. I love the idea that there are NO harsh ingredients, no chemicals. This product is a necessity for me! Quick service from Amazon. Oh, and I love all the "flavors" of the Herban Essentials.



5

stars based on

4

reviews