20 Individually Wrapped Lemon Towelettes
Brand:

Herban Essentials

Herban Essentials essential oil towelettes are made with the highest quality, pure essential oil, which not only makes them smell amazing, but makes them naturally uplifting and rejuvenating as well. Lemon essential oil is naturally refreshing.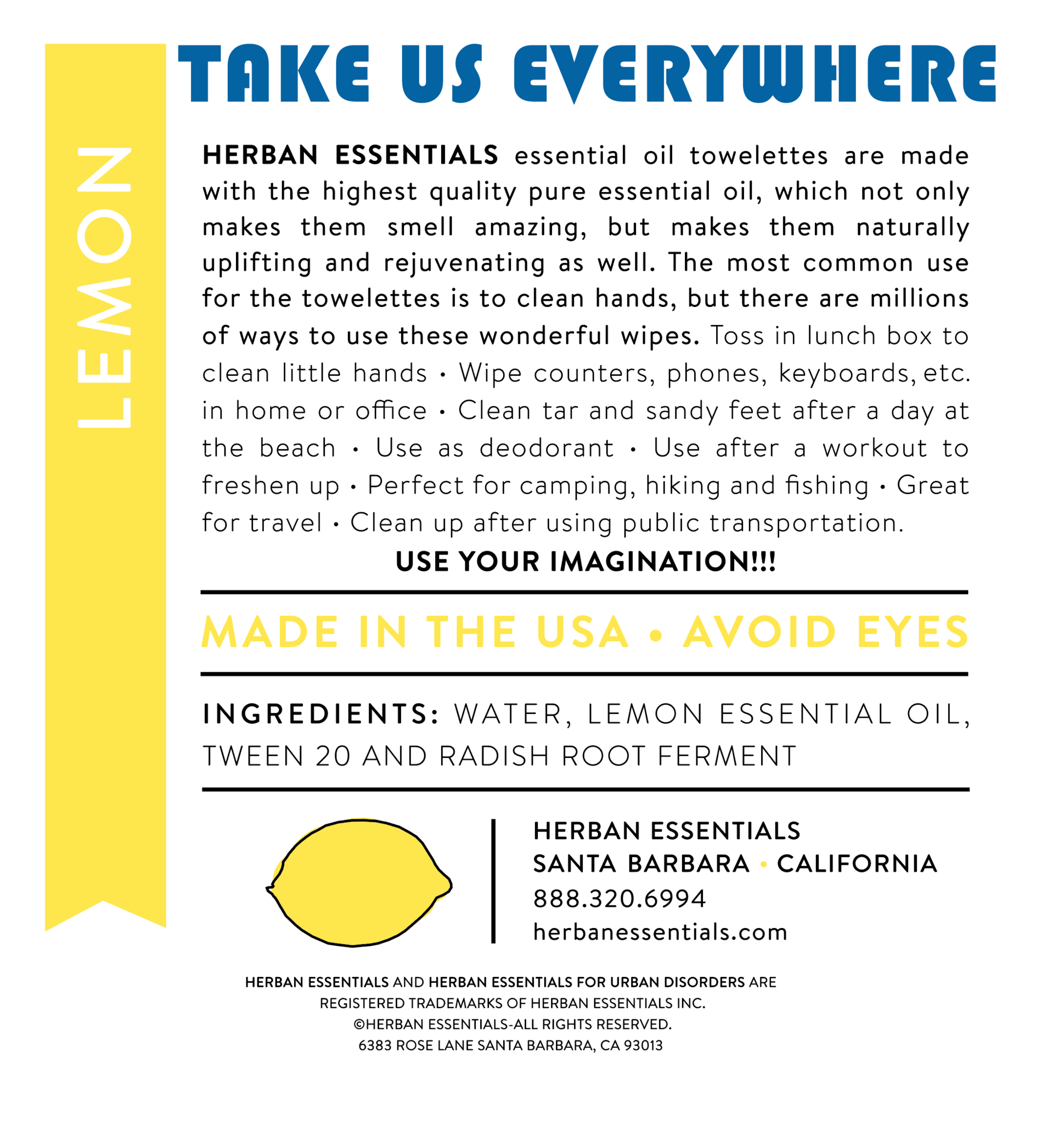 INGREDIENTS ⋅ WHAT'S IN THE TOWELETTE
WATER ⋅ PURIFIED

ESSENTIAL OIL ⋅ HIGHEST QUALITY (ORGANIC WHEN AVAILABLE)

TWEEN 20 (POLYSORBATE 20) ⋅ A FRUIT SUGAR EMULSIFIER TO KEEP OIL & WATER MIXED

RADISH ROOT FERMENT ⋅ ANTIMICROBIAL PEPTIDE (NATURAL PRESERVATIVE)
Code

004

EAN

835762000049

SKU

835762000049

Weight

184

Size X

15

Size Y

17

Size Z

7
Review by Firenze 1966, Posted on 13-07-2017, 5 Stars.
These are absolutely wonderful, a great pick me up! After I got mine, I had some sent to my sister as a gift. Will definitely buy again.
Review by Anonymous, Posted on 13-07-2017, 5 Stars.
Nothing bad to say! These were a necessity when I recently had surgery and couldn't shower for a while. Have bought multiple times. They are so refreshing and leave my skin clean and refreshed. The nurses even commented on how nice they were when I was in the hospital because the scent really stays with you.
Review by J. Harris, Posted on 13-07-2017, 5 Stars.
This feels great in the morning. I found that I can use the sheets several times as long as I put them back in the small packet and close the zip lock on the main package. They stay moist for several days after opening, if they are sealed up.
Review by Kimberly Stoddard, Posted on 13-07-2017, 5 Stars.
Best-ever portable solution for
- disinfecting ariplane seats
- deterring mosquitos
- fighting jetlag
- alleviating headaches
Review by Claudia Cohl, Posted on 13-07-2017, 5 Stars.
I always have to buy extra lemon towelettes because all my friends and family love them as much as I do. They're everywhere in my life--in my apartment and in my backpack and pockets. The only complaint I have is that it's difficult to find them in retail outlets and if I'm not on top of my stash I often run out.
Review by B A, Posted on 13-07-2017, 5 Stars.
Who doesn't love a fresh, lemony scent when wiping their hands! I love the convenience of the individual packets, too. This is one of my favorite items ever, and can't go without at least a few tossed into my bag when I travel.
Review by Anonymous, Posted on 13-07-2017, 5 Stars.
YOU WILL USE THESE! I order these over and over again. I have a compromised immune system and they are invaluable to me. The lemon scent is wonderful and is not offensive or too strong for other people. The price is quite reasonable compared to what I would pay at a local store.



5

stars based on

7

reviews