7 Individually Wrapped Lemon Towelettes
Brand:

Herban Essentials

Herban Essentials essential oil towelettes are made with the highest quality, pure essential oil, which not only makes them smell amazing, but makes them naturally uplifting and rejuvenating as well. Lemon essential oil is naturally refreshing.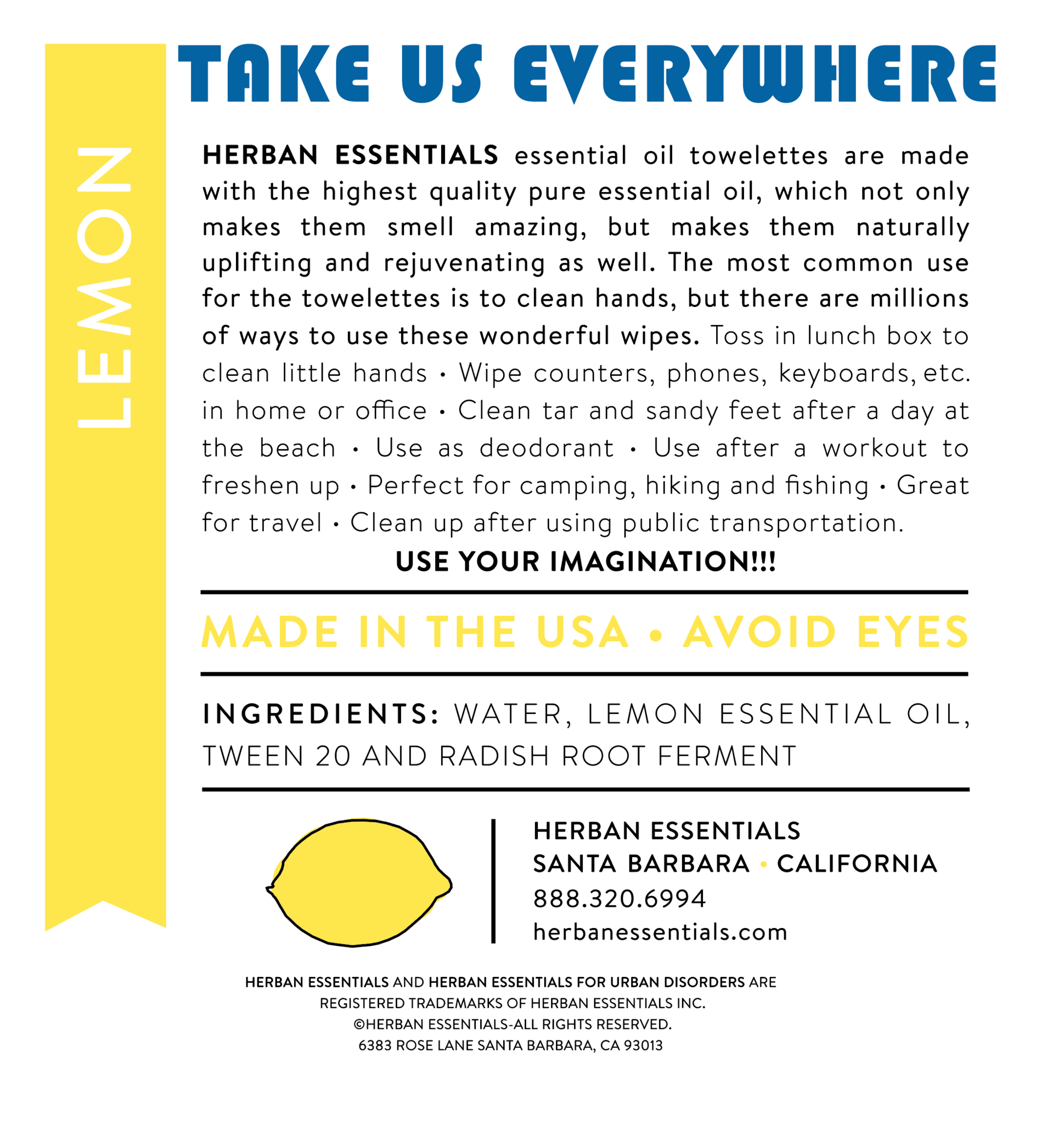 INGREDIENTS ⋅ WHAT'S IN THE TOWELETTE
WATER ⋅ PURIFIED

ESSENTIAL OIL ⋅ HIGHEST QUALITY (ORGANIC WHEN AVAILABLE)

TWEEN 20 (POLYSORBATE 20) ⋅ A FRUIT SUGAR EMULSIFIER TO KEEP OIL & WATER MIXED

RADISH ROOT FERMENT ⋅ ANTIMICROBIAL PEPTIDE (NATURAL PRESERVATIVE)
Code

014

EAN

835762000131

SKU

835762000131

Weight

70

Size X

7

Size Y

12

Size Z

12
Review by Andrew K, Posted on 13-07-2017, 5 Stars.
These smell great and can be used to clean just about everything!
Review by Danielpour, Posted on 13-07-2017, 5 Stars.
Towelettes are amazing So much healthier than using the toxic wipes with chemicals. I will be a regular customer
Review by Bryana A. Donohue, Posted on 13-07-2017, 5 Stars.
I love these after tennis to wipe up if so don't have time to shower. They smell amazing. I also threw a few in my purse.
Review by B. Thompson, Posted on 13-07-2017, 5 Stars.
These towelettes are both surprisingly large and surprisingly moist. I keep them in my purse to clean my hands or whatever when I start feeling gross. They'd also be great to use after the gym or something- they really do have enough liquid to clean you up, and the lemon smell makes you feel super clean. Great item to have around.
Review by Vrinda Krishna, Posted on 13-07-2017, 5 Stars.
These are so nice. They are very moist, a good size, and have a heavenly fragrance. What more can I say!



5

stars based on

5

reviews