6 Ways To Pamper Your Pup
All dog lovers have a tendency to spoil their furry friends and we can't blame them. Just like humans, dogs can get a little anxious and restless from time to time. Whether they get separation anxiety while you're away at work, or they have specific triggers like loud noises, there are a number of things you can do to relieve their stress and make them more at ease, aromatherapy included! We have compiled a list of our favorite ways to help your pup stay happy and healthy.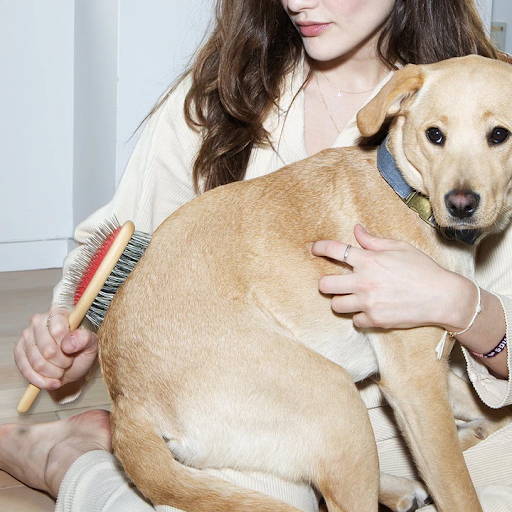 Brushing our dogs not only leaves us with less fur and hair to clean up, but it prevents tangling and matting which can often be painful for our pooches. Brushing also moves oils through the fur that help with growth and ensure that their skin stays moisturized. We love this natural dog brush from Package Free because of its dual sides which work for a wide variety of breeds and fur types. It's 100% compostable and the metal pins can be removed and recycled. A chore for us, but a very relaxing experience for your pup.
It's no easy task to wrestle a pooch down and brush their teeth, so we found a product that helps keep their teeth clean, hassle free. These Earthbones Dental Chews are made from whole ingredients and are highly digestible. The chews work to remove plaque and freshen up breath. These will save you expensive vet visits and keep your mind at ease knowing your pups teeth and gums are taken care of.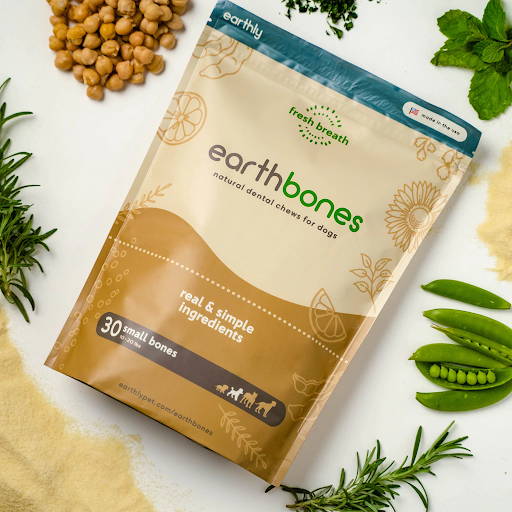 One easy way to relax your dog is to settle his or her anxiety by getting some fresh air and time outdoors. Getting your pooch outside for playtime, or arranging an afternoon at doggie daycare will make sure they are happy, healthy and anxiety free! Just like us, when exercising dogs produce endorphins, which helps their overall well being and happiness.
To keep your dog strong and happy, consider what health habits you take on when caring for yourself. Now simply translate those healthy habits over to your furry friend! They clock more hours of sleep than we do and seem a bit more enthused about exercise too. With that said, we are in control of properly feeding and giving the correct supplements to keep them happy and healthy. These little treats from Wild One are made from chamomile, hemp seed and passionflower and helps reduce stress in dogs. Be sure to check out Wild One if you're looking to boost your dog's overall health and wellness.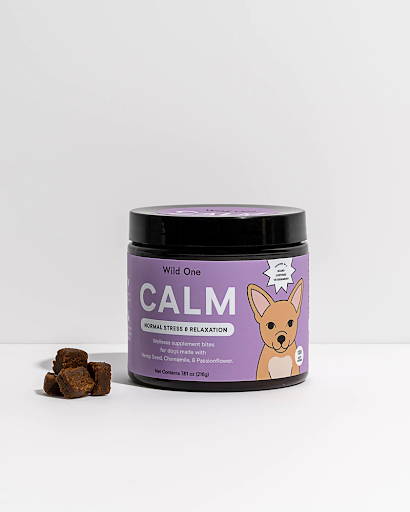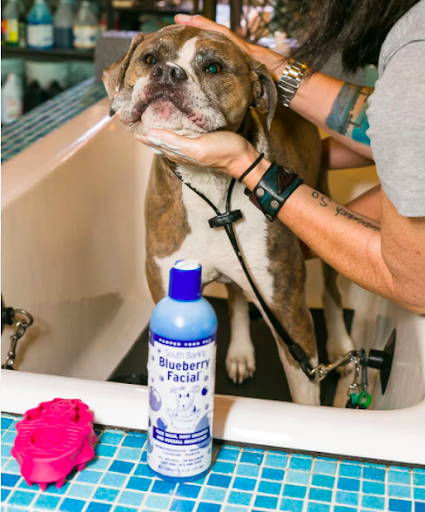 We're often told by veterinarians and health experts to avoid giving our pets human food. We all know how much most dogs love peanut butter, and pretty much anything else from our plates. A human snack that provides health benefits and is often already on hand are blueberries. Blueberries are a safe quick snack to offer your pooch, as they are a low calorie treat that contain antioxidants, fiber, vitamin C and vitamin K. They also are known for relaxing dogs, which is why this San Diego based dog washing service, South Park Dog Wash, provides blueberry facials to ever pooch before wash time!
Herban Essentials Dog Towelettes
Our final and favorite way to pamper our pup is with our Herban Essentials Dog Towelettes, made from the highest quality, pure lavender essential oil. Use them to wipe down your dog's coat in between baths to keep him or her smelling fresh. You can use these wipes to clean up muddy paws after a walk, or use the wipe to help soothe hotspots and other skin irritations. The pure lavender is relaxing for your pooch, and inevitably relaxing for you when cuddling up with your favorite furry friend!
In the same way we need exercise, good grooming habits, well balanced diets and a little self-care when we can, so do our pets! When they feel happy, we feel happy! Win-Win!